Finnish Music with Painter, Concert & Exhibition
We are pleased to announce that the "Japanese Painting and Finnish Music" event, which was held in Sendai last year, will be held in Tokyo as well.
This year, the concert and talk will be held on 10/2 (Sun.) at GG Salon, Ikebukuro Gendai Guitar Co.
At the same time, an exhibition of Ayaka Tadano's Japanese paintings will be held on 10/2 and 10/3 at the Yokohama Ellisman Residence.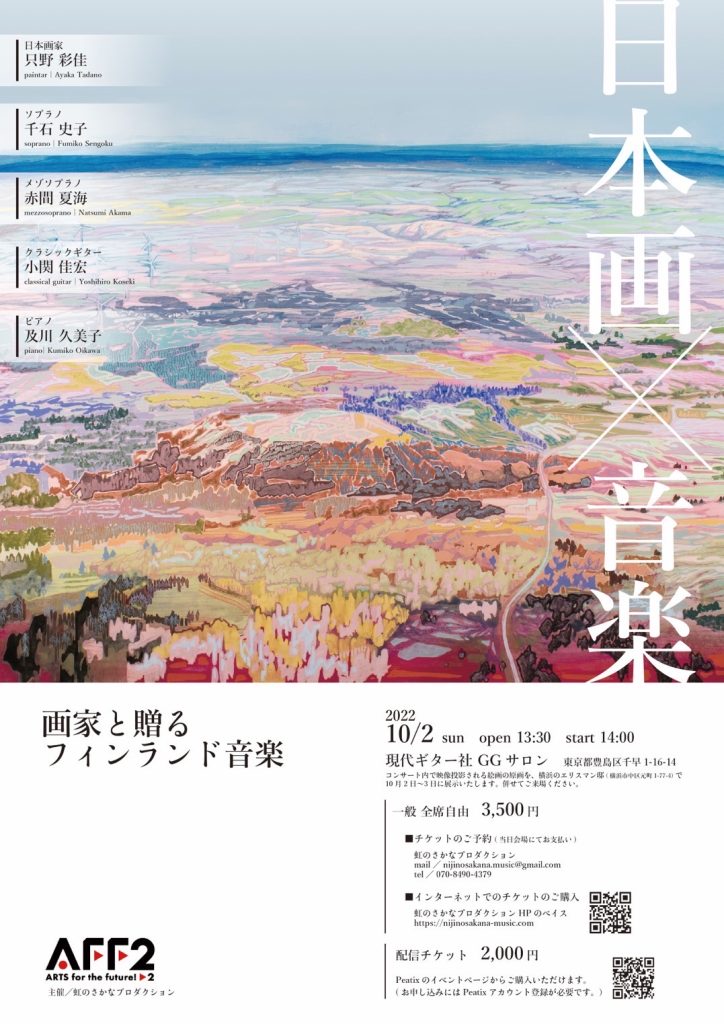 At the Ikebukuro venue, visitors can enjoy projections of the artworks and Finnish music along with the actual artworks.
Tickets are now on sale at Base. Those who cannot come to the venue will be able to watch the performance via streaming video.
●Date: 2022/10/2 (Sun) 13:30 Doors open 14:00 Concert begins
●Venue: GG Salon, Gendai Guitar Co.
(3 min walk from Kaname-cho Station / 1-16-14 Chihaya, Toshima-ku, Tokyo)
●Ticket: ¥3,000 for general public and ¥2,000 for subscribers
Performer
Ayaka Tadano (Painter)
Sengoku Fumiko (Soprano)
Natsumi Akama (Mezzo-soprano)
Yoshihiro Koseki (classical guitar)
Kumiko Oikawa (piano)
◉General tickets ¥3,500 / bais.
https://nijinosakana.base.shop/items/66397117
◉Tickets: ¥2,000
https://peatix.com/event/3329550/view?k=1b72a39127b5b8f057bc4e09a83a7f3dc4756035
◉For more information, please contact
Niji no Sakana Productions
070-8490-4379
nijinosakana.music@gmail.com
_______________________________
Concurrently, "Ayaka Tadano Japanese Painting Exhibition" will be held at the Western-style Erisman Residence in Yokohama.
The exhibition is open to everyone.
We hope you will enjoy the exhibition together with the concert.
Ayaka Tadano Japanese Painting Exhibition
●Admission: Free (free with or without concert ticket)
●Place: Erisman Residence (10-minute walk from Motomachi Chuka-gai Station / 1-77-4 Honmachi, Naka-ku, Yokohama City, Kanagawa Prefecture)
●Venue Time
10/2 10:00-17:00 (artist not present)
10/3 10:00-14:00 (artist to be present)
Some existing works by small and medium-sized artists will be exhibited.
We look forward to seeing you at both the concert and the exhibition.
We hope you will enjoy them.
We look forward to seeing you at the exhibition.